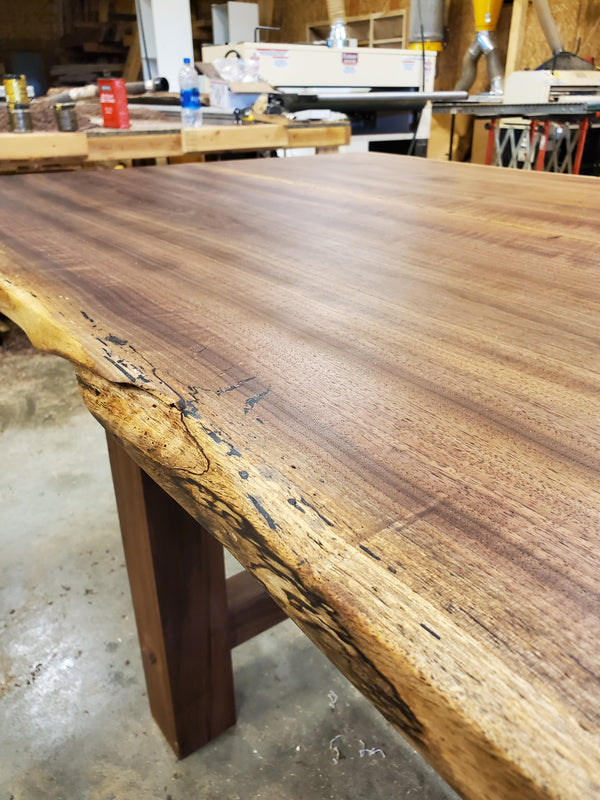 Wood table maintance
Do you often wonder the best way to maintain your wood table or countertops? Wood countertops are beautiful, durable finishes that can last a lifetime. Many old buildings have original wood floors over 100 years old and often reclaimed and sold for premium money. Wood tops do come with some care to keep them beautiful though.
How you care for your top while in use is part of the maintance. Try to protect the wood as much as possible with table coverings and placemats. Protect the finish from plates, pots and hot items with cloth placemats. This will greatly increase the lifespan of the finish used. 
If your table is finished with furniture oil you can recondition it with special wood soaps to clean and condition the wood. We sell Black Forest finishes along with their special wood soap. The soap has non aggressive natural cleaners and carnauba oils and bees wax to add more protection. Long term down the road you can recondition the wood with a fresh coat of oils. This will make the wood look good as new and help blend in blemishes and scratches. 
If your table if finished with polyurethane or other hard coatings your options of more aggressive cleaners are more broad. You can use surface disinfectants and common house hold cleaners. Hard coatings are more durable to scratches, but are not as easy as oil to fix scratches when they happen as you have to sand down urethane to fix deep scratches. It's not as concerning as oil to have to keep the wood covered while in use. Urethane holds up to abrasion and heat better than oils. Furniture soaps are still a good idea to use though as they will still help refresh the finish even on urethanes.
We sell a whole line of finishes and soaps to help protect and make your wood tops to last long enough to pass down to your family.