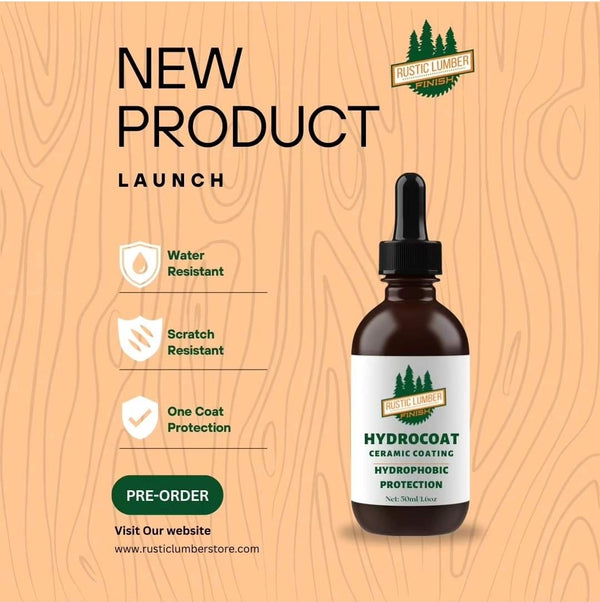 Have you tried our ceramic coating on your projects?
All the recent rave in wood finishing has been ceramic coatings. You've probably heard of it before on social media or you already are avid user of ceramic coatings. Modern day ceramic coatings came around in the last couple of decades. These new coatings were designed to protect metal and painted coatings in the automotive and industrial industries.
Through the years popularity protecting finishes with ceramic coatings have been growing and new products are being designed for a verity of industries protecting anything from cars, plastics, stone, tiles, urethanes and paints and wood. These new coatings are amazing to help protect your wood projects. Whether you use urethanes, epoxy, or hard-wax oil finishes, ceramic coating adds substantial protection to your finishes.
We've recently partnered up with a leading American ceramic coating manufacture to create our new coating, Hydrocoat, for the wood working industry. Our biggest points we wanted to have in our product, is top shelve quality and protection at an affordable price. Also another big advantage is one product, one coat is all you need. No longer do you need to buy two products and apply two coats for protection.
The protection Hydrocoat will add to your finish is making it much more hydrophobic. That means if moisture and spills happen it will bead up on the surface and not absorb, allowing much easier clean up. It adds scuff protection by making the surface much more slick or smoother. This reduces friction making abrasion less likely to happen. It'll add additional UV protection helping reduce fading in your finish. 
The life span of Hydrocoat is all dependent on 3 factors. The type of finish it's being applied on, the amount exposure the product will receive, whether it's moisture or UV exposures, how often and what is used to clean the surface. Applying Hydrocoat on a no porous finish like urethane or epoxy, it's going to last longer. Hardwax finishes are not a permanent, non permeable finish. Hardwax eventually wears down into the wood leading to eventual re-coating of hardwax and ceramic. In normal conditions on a urethane finish on a kitchen table for an average consumer, you'll see around 2 years of use of the ceramic coating. We are planning to release a simple to apply maintenance spray to add the life of the ceramic coating.
Whether you are already an avid user or first time user of ceramic coatings, now is the perfect time to try it out as we're offering a 40% pre-sale. This is the lowest price we will ever offer this product. We guarantee you're going to be 100% with Hydrocoat. Why you're at it also order some of our Furniture oil and epoxy products. Rustic Lumber Store is becoming a national leader in offering the highest quality products for all wood workers for all projects. 
Thank you to all of our past clients and wood workers that has made this all possible these last few years.