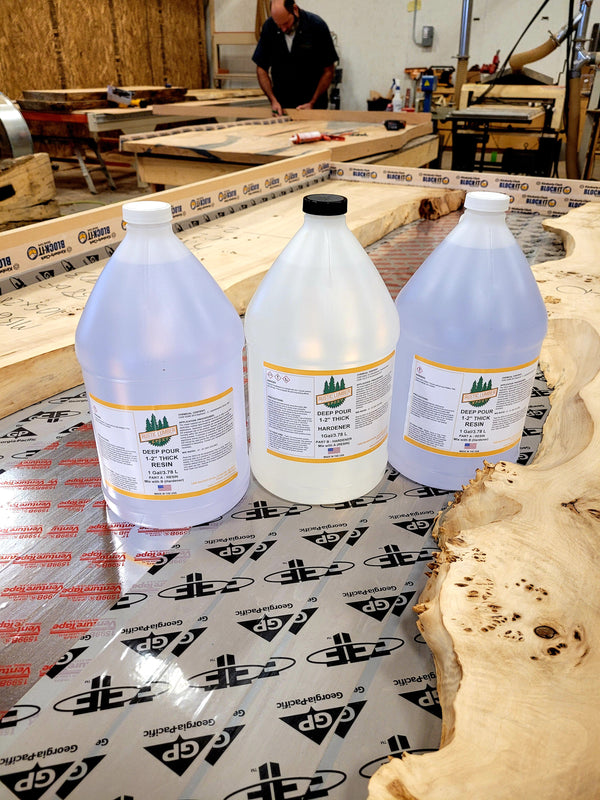 New Rustic Lumber Epoxy is avaliable!
At Rustic Lumber Store we have the highest level of standards and expect nothing but the best in everything we sell and that doesn't stop at epoxy resins. We wanted the best American made epoxy and customer service to offer and found the best way to do that is introduce our own brand of epoxy, Rustic Lumber Epoxy. We teamed up with a leading family owned American manufacture to offer the best valued epoxy on the market.
The two products we currently offer is Deep pour and thin pour epoxies. Deep pour is perfect for those large jobs with deep pours or high volumes. It's a slow curing epoxy that is suitable for up to 2" thick pours. Thin pour or table top epoxy is for top coats for tables and furniture and low volume thin pours like small cutting boards for coasters ect. Both our epoxies features glacier blue resin. The advantage of glacier blue is it'll make a more crystal clear finish and reduce yellowing like traditional epoxies. Our kits come in 3 gallon deep pour and 1 gallon thin pour packages. 
We can ship across the country with free shipping through our website and of course available for local pickup. If you're looking to buy large quantities or become a local dealer please contact us today for discount pricing.